An excellent launch pad for nature enthusiasts and weekend wanderers, Santa Cruz is well known for its whale-watching excursions, scenic mountains home to ancient trees, and its mesmerizing selection of wineries for the wine connoisseurs out there. And don't forget the town's iconic status as a surfer's paradise, thanks to its iconic beaches!
Come December and Santa Cruz transforms into a wonderful place to visit during Christmas – be it for your winter sun and turf, or a fun-filled family getaway.
A Look at a Christmas Vacation in California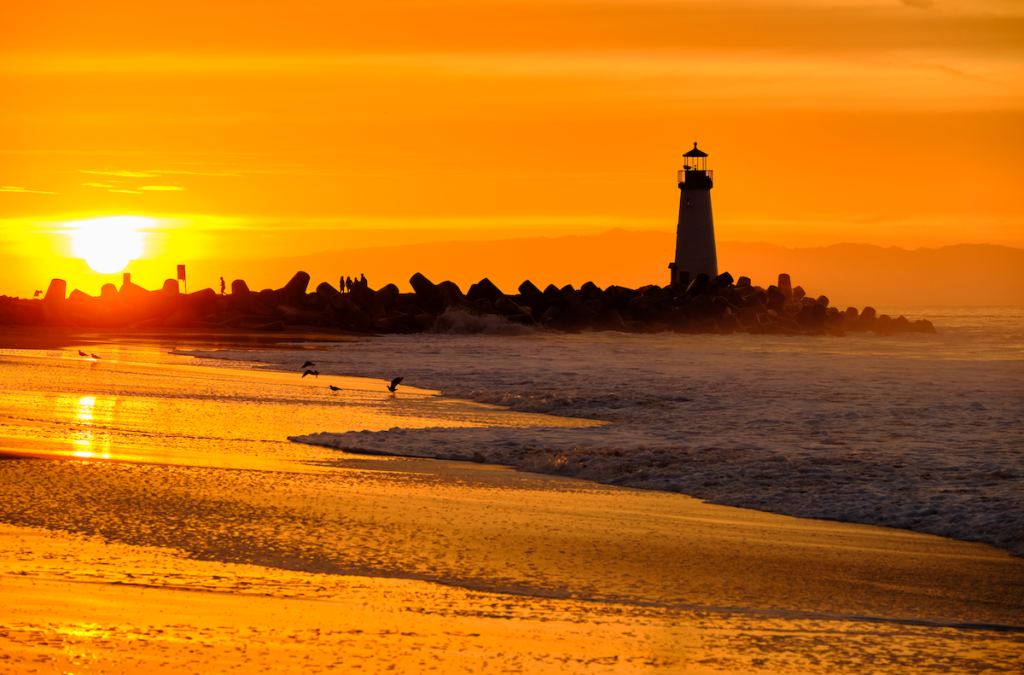 If you are looking for a unique Christmas vacation this year, sunny California might just be the perfect destination! From snow-capped mountains to festive Disneyland, there is something for everyone in the Golden State. Nestled on the coast of California, Santa Cruz is a charming town that comes alive during the holiday season. From its festive downtown to its world-famous beach boardwalk, there is something for everyone to do for Christmas in Santa Cruz.
What to Do in Santa Cruz California on the Holiday Season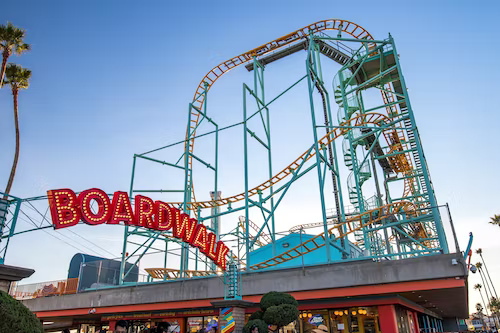 Downtown Santa Cruz transforms into a winter wonderland during the holidays, with twinkling lights and holiday decorations adorning every storefront. Visitors can enjoy festive window displays, ice skating in front of City Hall, and shopping at the many unique boutiques and stores downtown. The annual Holiday Parade is also a must-see, with floats, marching bands, and local dignitaries making their way down Pacific Avenue.
The Santa Cruz Beach Boardwalk is another popular spot during Christmas time. The boardwalk comes alive with holiday lights and decorations, and visitors can enjoy rides, games, and delicious food. Do not forget to take a spin on the world-famous Giant Dipper roller coaster! In addition, be sure to stick around for the nightly tree-lighting ceremony at the end of December.
Finally, no visit to Santa Cruz during Christmas time would be complete without seeing the giant sequoia trees at Henry Cowell Redwoods State Park. These massive trees are decked out in holiday lights, creating a truly magical experience. Be sure to bring your camera to capture some unforgettable memories and decide where to stay in Santa Cruz if you have decided to make it your destination of choice for this holiday season!
Christmas Events in Santa Cruz County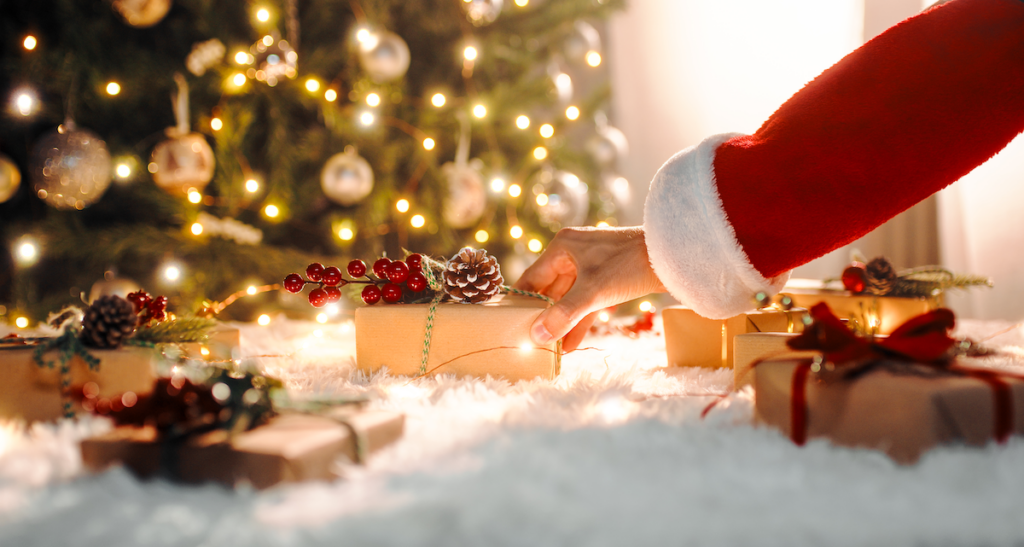 Each year, the holiday spirit hits Santa Cruz County with all its festive glory. The small town offers multiple family-friendly ways to celebrate the season. There is something for everyone; from the Holiday Lights Train, the Winter Wonderland at the Santa Cruz Beach Boardwalk, loads of outdoor Holiday Markets, Drive-In Holiday Movies, and more.
Here are some of the note-worthy events for Christmas in Santa Cruz that you should not miss:
Lights on the Wharf: This annual event features a tree-lighting ceremony, live music, and of course, Santa Claus! The whole family will enjoy this festive event that takes place right on the Santa Cruz Municipal Wharf.
Christmas in the Park: This event takes place in San Lorenzo Park and features over 60 decorated trees, live entertainment, and visits from Santa Claus. This is a great event for the whole family to enjoy!
West Cliff Holiday Outdoor Market: This market features local food trucks and unique artists. Because it overlooks Steamer Lane, locals and tourists love this spot. Visitors can enjoy the vista while browsing craft stalls and speciality meals. The event features free entry and live music!
Santa Cruz Grown-ups Night Out: Are you looking for a fun night out without the little ones? The Santa Cruz grown-ups night out has you covered! This 21+ event takes place at the Santa Cruz Beach Boardwalk. Enjoy holiday rides and games, as well as festive drinks and food. This is a great way to get into the holiday spirit with your friends!
Where to Stay in Santa Cruz California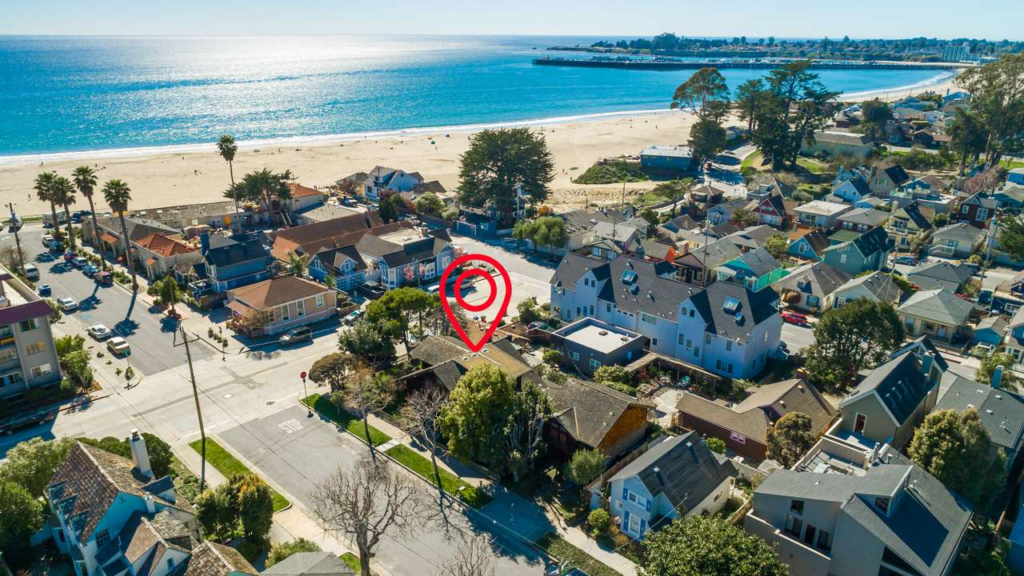 Your trip to Santa Cruz can be luxurious, simple, and enjoyable. The town has plenty of vacation rentals to choose from. The best way to find a suitable place is to look for a neighborhood that is close to basic amenities and attractions that you wish to visit during your trip.
Santa Cruz is a wonderful place to visit during Christmas time. So start planning your trip today and come experience all that this special town has to offer!
Frequently Asked Questions About Christmas in Santa Cruz
Where is Santa Cruz located?
Santa Cruz is located on the northern edge of Monterey Bay in the state of California and is a popular tourist destination for visitors from across the globe.
How far is Santa Cruz from San Francisco?
Santa Cruz is about 73.3 miles (117.9 kilometers) to the south of San Francisco.