In the lush embrace of California's coast, the vibrant city of Santa Cruz awaits you and your partner with open arms, offering a captivating blend of enchanting beauty, adventurous activities, and romantic vacation rentals. This region, kissed by the Pacific, is renowned for its surf-perfect waves, charming boardwalks, and iconic redwood forests, making it an idyllic setting for couples looking to retreat, explore, and revel in the magic of love.
Read on as we explore the most romantic corners of Santa Cruz, leading you to unique vacation rentals that perfectly balance luxury, privacy, and scenic beauty. Get ready to explore the magic of Santa Cruz, and let it serve as a beautiful canvas for your love story.
Adventure for Two: Outdoor Activities for Couples in Santa Cruz
Santa Cruz is a city of stunning natural beauty, lively culture, and adventurous activities, providing countless opportunities for couples looking for a thrill on their romantic getway. Here are some fun activities that you can consider;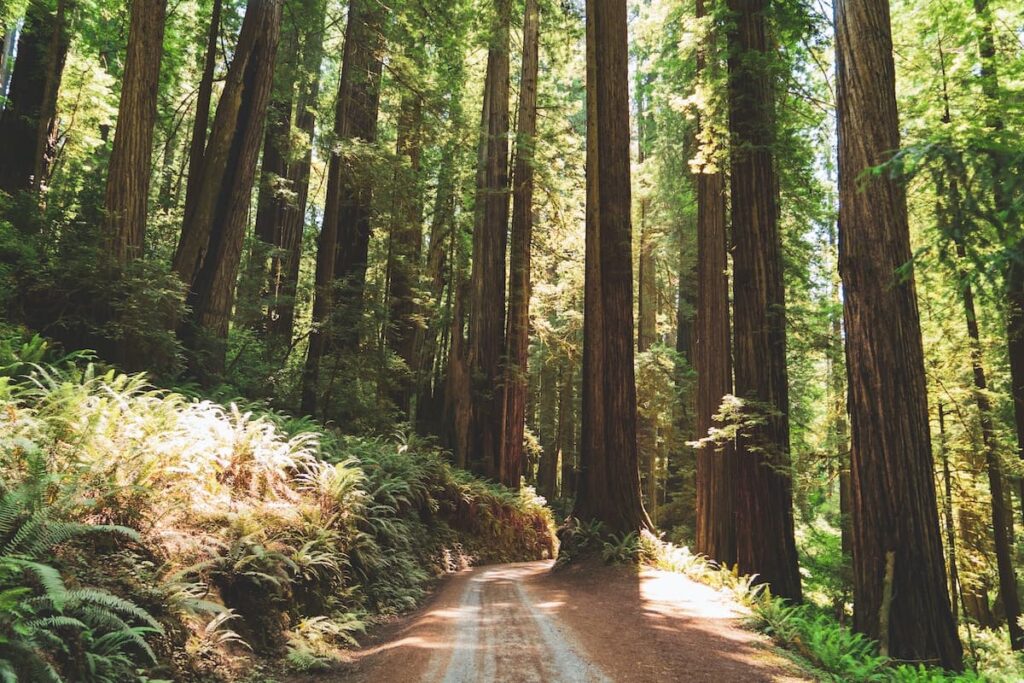 Hiking in the Redwoods
A hike through the towering trees in parks like the Henry Cowell Redwoods State Park or Big Basin Redwoods State Park is an unforgettable shared adventure. As you wander the meandering paths, the world's tallest trees soaring above, you'll feel both humbled and connected—creating an intimate bond with nature and each other.
The cool, fresh air, the soft crunch of leaves beneath your feet, and the serene silence broken only by the whisper of the trees and the chirp of hidden wildlife combine to make this experience a moving symbol of the timeless and profound love you share. So lace up your hiking boots, hold hands, and let the magical romance of the redwoods sweep you both off your feet.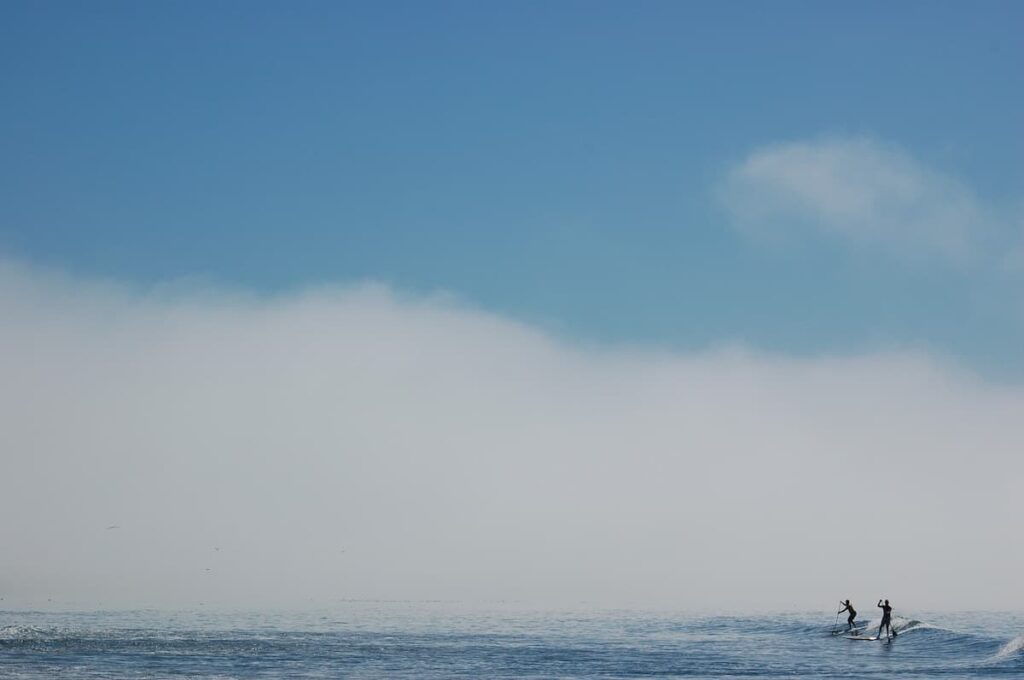 Surfing or Stand-up Paddleboarding
Riding the waves of the Pacific together is a thrilling experience that Santa Cruz offers to adventurous couples. Renowned as one of the best surfing destinations in California, Santa Cruz surf spots provide opportunities for both experienced surfers and beginners alike. Whether it's catching your first wave together during a lesson at the gentle breaks of Cowell Beach or sharing a surf session at the world-famous Steamer Lane, the shared thrill and exhilaration of surfing will add a splash of adventure to your romantic getaway.
For a more tranquil but equally exciting water adventure, try stand-up paddleboarding in the calm waters of the Santa Cruz Harbor. As you balance and paddle together, taking in the stunning coastline views and spotting marine life, you'll be creating lasting memories of your Santa Cruz escapade.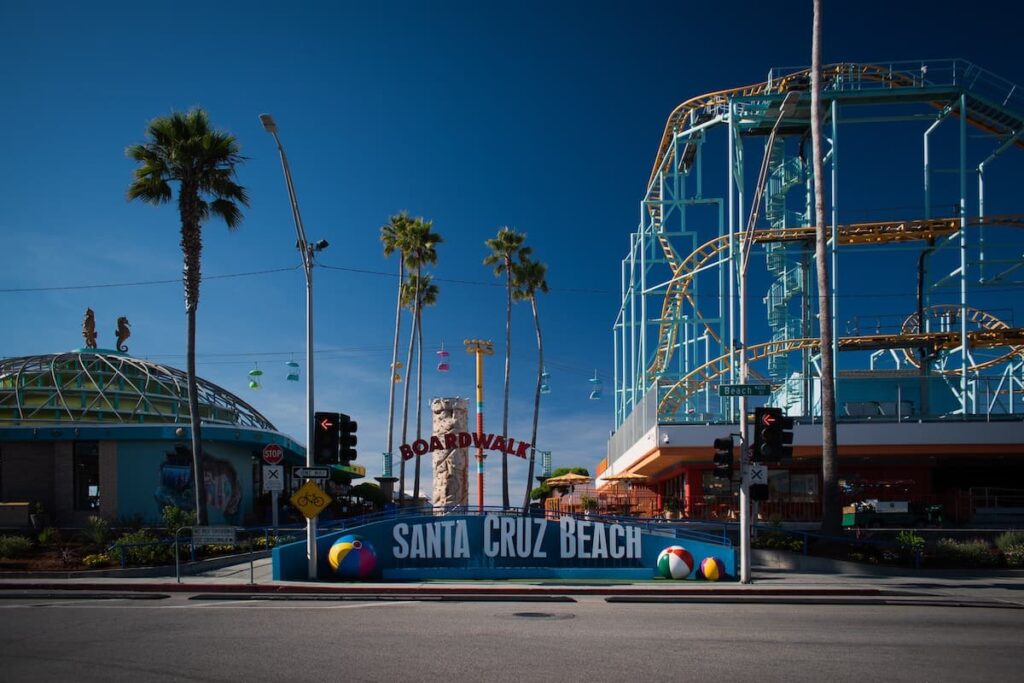 Stroll or Bike along the Santa Cruz Beach Boardwalk
A romantic stroll or bike ride along the Santa Cruz Beach Boardwalk presents couples with a delightful blend of nostalgia and natural beauty. As you wander hand-in-hand down the boardwalk, the ocean breeze in your hair, the golden Californian sun warming your skin, you can enjoy stunning views of the Pacific. Stop by the historic amusement park with the tantalizing smells of classic boardwalk treats like corn dogs and cotton candy in the air. Browse the shops, listen to some live music and treat yourselves to an ice cream cone, a walk down the Santa Cruz Boardwalk can be enjoyed anytime of the day.
Opting for a leisurely bike ride adds an extra layer of enjoyment, allowing you to explore further. The route along West Cliff Drive offers stunning views of the coastline, vibrant surf scenes, and picturesque pit stops like the iconic Santa Cruz Surfing Museum. Whether on foot or on two wheels, this scenic journey will undoubtedly strengthen your bond as you create shared memories amidst the magic of Santa Cruz.
A Taste of Santa Cruz: Romantic Culinary Experiences for Foodie Couples
For couples who share a love of good food and a taste for fine wine, Santa Cruz has multiple foodie experiences for partners to experience together. For the wine connoisseurs, there are stunning wineries, for the humble couple looking for fresh ingredients for a beach picnic, there is the local farmers market, and for the couples seeking a gourmet sit down meal, Santa Cruz has got you covered. Here are some of our top picks;
Sip Your Way Through the Vineyards
Santa Cruz is not just a coastal paradise; it's also a premier wine country offering a rich and diverse tasting experience for couples. As you traverse the breathtaking landscape of the Santa Cruz Mountains Wine Region, you'll discover world-class vineyards that produce some of California's most acclaimed wines. Indulge in intimate wine tasting sessions at wineries like Bargetto Winery or Ridge Vineyards, where you can sample exquisite varietals while learning about their unique wine-making process.
Many of these wineries offer tours of their vineyards, inviting you to stroll hand-in-hand through the picturesque vines, immersing you in the art and science of viticulture. A day sipping fine wines amidst the stunning mountain views can serve as the perfect backdrop for romance, allowing couples to connect over shared tastes, relaxed conversation, and the simple beauty of Santa Cruz's winerys and vineyards.
Taste Local Flavours at the Farmer's Market
Exploring Santa Cruz's lively farmers markets is a wholesome weekend activity for couples to enjoy. It's a way for you both to taste the city's bountiful local produce and immerse yourselves into the vibrant community spirit. The Downtown Santa Cruz Farmers Market is a must-visit, bustling with vendors selling an array of fresh fruits, vegetables, artisan cheeses, baked goods, and a variety of handmade crafts.
Couples can have fun sampling the fare, picking out ingredients for a romantic beach picnic, or discovering unique local crafts to commemorate their trip. The market also offers delicious ready-to-eat food from local food stalls – perfect for couples wanting to try a variety of local dishes. Visiting a farmers market in Santa Cruz not only gives couples a taste of the local cuisine but also offers an authentic snapshot of the city's culture, community, and way of life.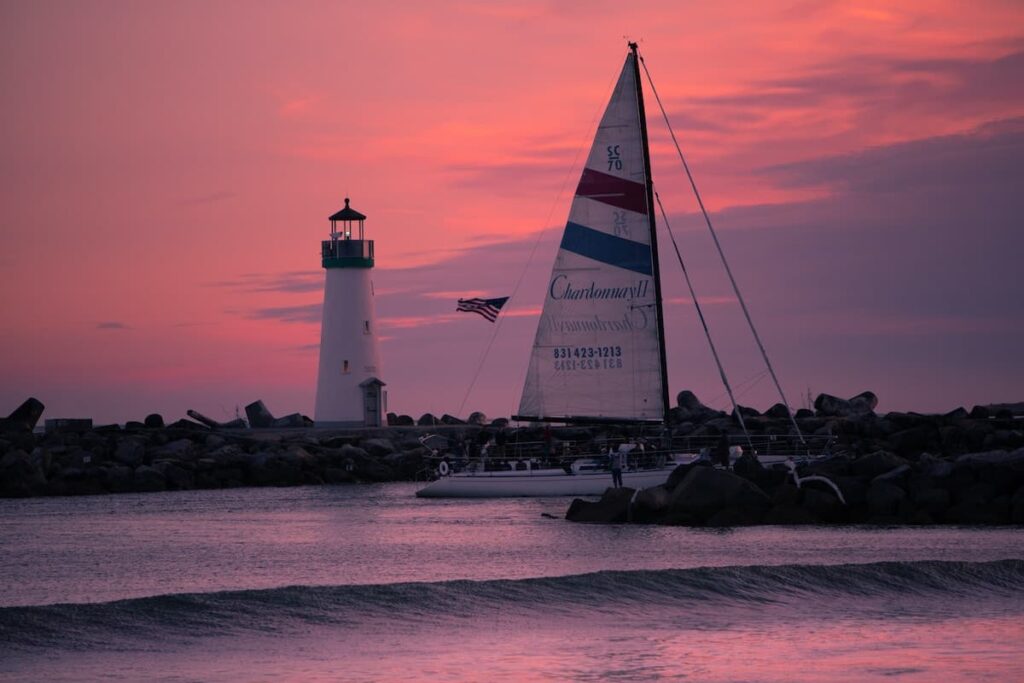 Dine Under The Stars
Nothing quite matches the enchanting romance of a sunset dinner cruise in Santa Cruz. As you and your partner embark on a journey across the tranquil waters of the Monterey Bay, the breathtaking views of the California coastline and the Santa Cruz Mountains form a magnificent backdrop. As the sun dips below the horizon, painting the sky in hues of pink, orange, and purple, you'll be treated to a delicious meal—often featuring locally-sourced seafood and produce—served in the intimate setting of the boat.
This unforgettable experience offers the chance to spot local wildlife such as sea otters, dolphins, or even whales, as you dine. It's an epitome of romance, combining the natural beauty of Santa Cruz, delectable food, and the intimate ambiance of the sea and sunset, provides an idyllic setting for a memorable evening of your romantic getaway.
Relax and Rekindle
Elevate your romantic getaway in Santa Cruz with a rejuvenating couples spa day. Santa Cruz is home to numerous world-class wellness retreats that invite you to unwind amidst serene settings. Imagine an intimate spa suite where you and your partner enjoy a blissful massage, feeling the stress melt away under the skilled hands of experienced therapists.
Whether you choose a spa nestled in the heart of the city or a tranquil wellness retreat in the surrounding forests, this shared journey to relaxation will not only refresh your bodies but also rejuvenate your bond. A couples spa day is more than just an indulgence—it's a shared experience that will create beautiful memories of your romantic escape in Santa Cruz. Check out Opal Spa Boutique in Capitola or the Tea House Spa for a relaxing couples spa day.
Romantic Stays in Santa Cruz
Santa Cruz is home to an impressive array of romantic vacation rentals that promise to turn your getaway into an unforgettable romantic experience. These intimate rental homes nestled between the ocean's edge serve as perfect backdrops for starlit dinners, sunrise breakfasts, and cozy evenings by the fireplace. Whether you're newly in love, on your honeymoon, or reigniting the flame, these vacation rentals provide the perfect settings for each precious moment. With an array of rentals available from luxury beachfront homes to coastal cottages and cozy apartments, there is a rental home to suit every couple's vibe.
Ignite Your Flame in Santa Cruz
Santa Cruz's coastal charm infuses love into every wave, forest trail, and wine sip. It's the perfect setting for falling in love, deepening bonds, or rekindling flames. So, grab your partner and let Santa Cruz weave its romantic magic into your shared moments. Love isn't just about the perfect person, but exploring the perfect place together, and Santa Cruz is just that. Let your love story unfold amidst its swaying palms, towering redwoods, and golden sands, under sunsets as beautiful as love itself. Santa Cruz awaits you!
Some commonly asked questions about romantic vacations in Santa Cruz
What is the best time to visit Santa Cruz for a romantic vacation?
While Santa Cruz is a beautiful destination year-round, the best time for a romantic vacation would be during late spring, summer, or early fall when the weather is warm and sunny.
What outdoor activities can we do in Santa Cruz?
Santa Cruz offers a wide array of outdoor activities including surfing, hiking in the redwoods, paddleboarding, biking along the beach boardwalk, and wine tasting in the local vineyards.
Can we arrange for special romantic experiences like a private dinner or a couple's massage in Santa Cruz?
Yes, many hotels, restaurants, and spas in Santa Cruz offer services tailored for couples, including private dinners, couples massages, and other romantic amenities.
Are there any romantic sunset spots in Santa Cruz?
Yes, there are numerous spots to watch the sunset in Santa Cruz, including the Santa Cruz Wharf, Natural Bridges State Beach, Pleasure Point, and the West Cliff Drive.
Is Santa Cruz a good destination for a honeymoon?
Absolutely! With its beautiful beaches, romantic redwood forests, charming vacation rentals, and exciting activities like wine tasting and surfing, Santa Cruz makes a fantastic honeymoon destination.