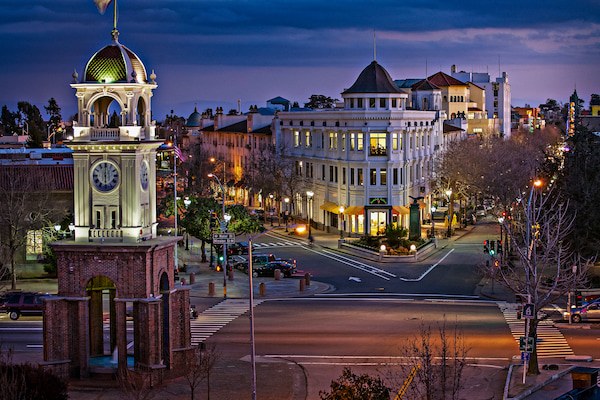 Santa Cruz in the Fall
As the sun starts to set earlier and the vibrant greens leaves of summer change into the mellow tones of fall, Santa Cruz transitions into a tranquil haven, adorned with autumnal hues and graced with comfortable temperatures. Visitors come to explore the picturesque landscapes, walk the sun-kissed beaches and immerse themselves in vibrant festivals and enriching community events.
The array of vacation rentals in Santa Cruz stands ready to offer a cozy home base, surrounded by the gentle whispers of ocean waves and rustling golden leaves, catering to every preference and budget. Join us as we explore this picturesque haven and discover why Fall in Santa Cruz is a time and place like no other.
Santa Cruz Weather in Fall
In the fall, visitors to Santa Cruz can expect a milder, more comfortable climate with temperatures ranging from the high 60s to low 70s Fahrenheit. This season graces the city with less fog and calm evenings, offering perfect moments to enjoy the golden sunsets. While the early fall months remain relatively dry, rainfall gradually increases as the season progresses, averaging about 2-4 inches of precipitation throughout the season. Do pack a sweater, as the coastal breezes can bring in a crisp chill as the sun sets.
Explore Santa Cruz's Natural Landscapes
Santa Cruz's beautiful surroundings are a joy to explore, especially during the fall season when the weather is mild and the scenery is stunning. Whether you're seeking a scenic hike, a relaxing beach walk or some heart-racing surfing, Santa Cruz has it all. Here are some of the best outdoor activities to do around Santa Cruz in Fall.
Hit the Beach
In the fall, a visit to the beaches of Santa Cruz offers a tranquil escape surrounded by stunning scenery. Main Beach, adjacent to the iconic Santa Cruz Boardwalk, is a popular choice for leisurely walks and beach volleyball. Meanwhile, Natural Bridges State Beach, known for its iconic rock formations, stands as the best spot to witness monarch butterfly migrations and explore tide pools teeming with marine life. Seabright Beach is another popular choice, offering beautiful sunrises and a nearby museum to satiate your historical curiosity.
Over at Pleasure Point, renowned for its scenic views, you can enjoy picnics while spotting sea birds and occasionally, playful dolphins near the shoreline. Each beach offers its own unique charm, presenting opportunities to reconnect with nature through sightseeing and gentle activities amidst the calming autumn atmosphere.
Surfing Isn't Just for Summer in Santa Cruz
In fall, Santa Cruz becomes a haven for surf enthusiasts seeking the perfect wave. The conditions are ideal with consistent swells and less crowded lineups. Cowell's Beach is popular among beginners and intermediates, offering gentle waves and a friendly atmosphere.
For the more experienced surfers, Pleasure Point presents an exciting challenge with its powerful breaks. Other notable spots include Steamer Lane, which offers world-class waves and a vibrant surfing community. Regardless of your skill level, Santa Cruz's beaches in fall provide the perfect setting for surfers to hone their skills and enjoy the sport amidst beautiful coastal scenery.
Hike Through the Fall Leaves
Fall is the ideal time for hiking in Santa Cruz, where the trails are littered with autumnal leaves and fresh crisp air. Popular hikes include the paths through Wilder Ranch State Park, where hikers can explore coastal bluffs, historic barns, and scenic valleys. The Pogonip Open Space Preserve offers a range of trails from easy to moderate, featuring enchanting redwood forests and opportunities to spot deer and other wildlife.
Another favorite is the Henry Cowell Redwoods State Park which houses the magnificent Redwood Grove Loop Trail, an easy and family-friendly trail showcasing the ancient, towering redwoods and the serene San Lorenzo River. As you venture through the trails, have your camera at the ready as you're greeted by a rich tapestry of fall colors, vibrant ecosystems, and even the area's picturesque streams and waterfalls.
Fall Activities in Santa Cruz
Some say fall is the coziest season of them all. The colourful leaves blanketing the streets and the cool breeze in the air creates such a comforting atmosphere. This cozy fall vibe is in abundance here in Santa Cruz, check out some of the best things to do during your perfect fall vacation to the coast.
Visit a Pumpkin Patch
Visiting a pumpkin patch is a quintessential fall activity, and here in Santa Cruz, the area transforms into an agricultural paradise brimming with vibrant pumpkin patches and bountiful apple orchards, promising delightful experiences for both locals and visitors. Check out Post Street Farm which boasts eerie decorations and a haunted house, or The Live Oak Canyon Pumpkin Patch, where you can add artistic flair to your chosen pumpkin.
For a rustic adventure, set your sights on the pastoral landscapes of Rodoni Farms, home to an expansive selection of pumpkins ranging from classic oranges to unique white and striped varieties, all ready to be picked and taken home. They also have a sprawling 5-acre corn maze for an added dash of excitement. Return home with multiple pumpkins, ready to carve your perfect jack o'lantern just in time for Halloween.
Apple aficionados, on the other hand, have a rich selection of orchards to explore. Luz de Valle offers a quaint farm stand with lots of apple varieties, while Clearview Orchards and the renowned Gizdich Ranch invite you to wander amidst picturesque trees heavy with crisp, ripe apples.
Wine O'Clock in Santa Cruz
The Santa Cruz Mountains are known as one of the country's best wine regions; in fall, the cascading mountain vineyards transform into an autumn wonderland. Embarking on a winery tour in Santa Cruz is a delightful way to spend a fall day, with vineyards like Bargetto Winery in Soquel offering a rich history and stunning views of the surrounding mountains.
Photo Credit: 'Sunset over the vineyard' by Jitze Couperus via CC BY 2.0
Over in the Corralitos Wine Trail, vineyards such as Alfaro Family Vineyards and Storrs Winery beckon with their premium wines and picturesque settings. Visitors can look forward to guided tours where they'll learn about the winemaking process, and of course, indulge in wine tasting sessions featuring a selection of the finest local vintages.
Whether it's appreciating the elegant ambiance at Bargetto or reveling in the rustic charm of Alfaro Family Vineyards, a visit to Santa Cruz's wineries promises a feast for both the eyes and the palate.
Sail into Sunset
After your fun-filled day of fall activities, take advantage of the good weather and take to the sea in the evening for a sunset sailboat cruise. Embark on a public sunset sail with the Chardonnay Sailing Charter or the O'Neill Yacht and witness the breathtaking sunset season that graces the skies all season long. Painting the sky with a spectacular palette of pinks, oranges, and reds, Santa Cruz sunsets are a sight to behold and seeing them aboard a sailboat on the water is an experience to remember.
Moreover, fall is a prime time for whale watching in Monterey Bay, as humpback and blue whales traverse through in remarkable numbers, adding a touch of magic to your evening cruise with their majestic presence.
Spooky Season Events in Santa Cruz
October 2023 in Santa Cruz promises to be a season of delightful scares and fun with multiple Halloween events taking place. The famous Santa Cruz Beach Boardwalk is hosting its renowned 'Boardwalk Fright Walk,' offering a thrilling walk-through experience filled with spooky surprises at every corner.
Head to the Santa Cruz Boardwalk for their Halloween 'Fright Flicks' nights. Come with popcorn and drinks and enjoy a scary movie with friends. There are themed giveaways for the first 50 attendees each night, plus a full bar featuring drinks and snacks for purchase. There are cozy inflatable chairs available on a first-come-first-served basis. Starting off October 4th with the spine-chilling film 'Us', which was filmed right here in Santa Cruz.
Over at Downtown Santa Cruz, the annual Halloween Parade is gearing up to showcase an array of vibrant costumes, float displays, and live music, cultivating a festive atmosphere that engages community members and visitors alike.
Head down to the Santa Cruz wharf during the lead up to October 31st for the 13 Days of Halloween on the wharf where there will be a host of spooky activities from dance shows, bingo, find the pumpkins and photo booths. Each event paints the town with a spirit of excitement and a touch of eerie fun, promising unforgettable Halloween celebrations for all ages.
Explore Santa Cruz this Fall
From scenic outdoor activities like hiking, surfing and sailing to fun fall activities like pumpkin patches, wineries and halloween fright nights, Santa Cruz offers visitors the whole autumnal package. Whether you're seeking a tranquil retreat or a spooky-filled getaway, Santa Cruz offers a backdrop as vibrant and varied as the fall foliage itself. So pack your favourite fall cardigan and head to Santa Cruz for a fall to remember on the beautiful Californian coast.