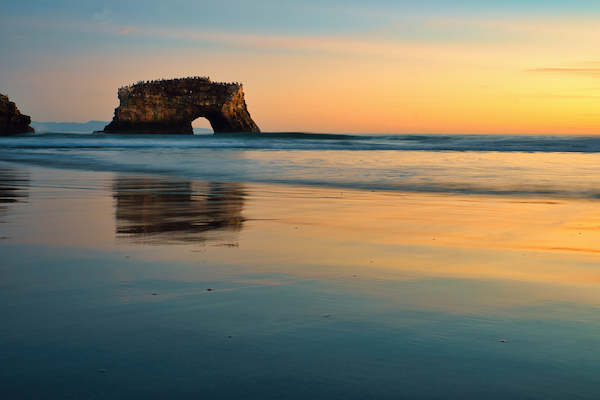 Santa Cruz's Best Beaches: Where to Relax and Play
Sun-kissed shores, crashing waves, and footprints in the golden sand — Santa Cruz beaches are the epitome of Californian coastal beauty. Whether you're looking to catch a wave, build a sandcastle, or simply watch the world go by with the sun warming your skin, Santa Cruz offers a shoreline experience like no other.
As travelers from near and far embark on their seaside adventures, many are discovering the charm of Santa Cruz vacation rentals, providing a cozy home-away-from-home. Nestled close to the ocean, they offer an intimate gateway to the heart of coastal living. Dive into our guide and discover where to relax, play, and make unforgettable memories on the iconic Santa Cruz beaches. Welcome to paradise!
Explore Santa Cruz's Best Beaches
Santa Cruz, with its spectacular coastline, offers some of the most picturesque beaches in California. Each of these beaches embodies a unique charm and allure, ensuring that every visitor to Santa Cruz can find their perfect slice of coastal paradise. Whether you're seeking a surfing hot spot, a serene beach surrounded by nature, or a secluded beach ideal for reading, Santa Cruz's beaches have something for everyone. Here are a few of the best:
Main Beach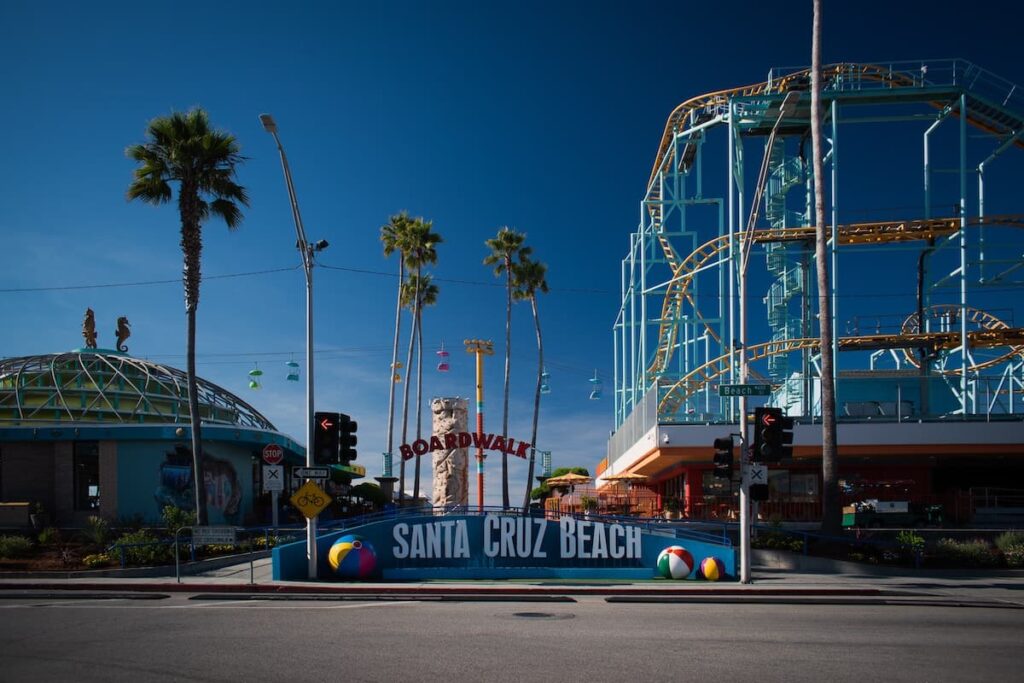 As its name implies, Main Beach is in the heart of all the action in Santa Cruz. Located adjacent to the iconic Santa Cruz Beach Boardwalk, Main Beach serves as the city's vibrant coastal epicenter. This expansive sandy stretch buzzes with activity, from families sunbathing and building sandcastles to spirited games of beach volleyball.
Photo by Levi Meir Clancy on Unsplash
Beyond its shores, the waves beckon water sports enthusiasts, with opportunities for surfing, paddleboarding, and kayaking. As you stroll along the beach, the lively backdrop of the boardwalk's amusement rides and the melodious laughter of visitors creates a captivating atmosphere. Main Beach is not just a place to relax, but also a hub for entertainment, water sport rentals and culinary delights.

At Main Beach, isitors are just a short stroll away from a plethora of nearby cafes and restaurants. Popular spots like the Picnic Basket and Aldo's Harbor Restaurant offer delicious fare, allowing you to satiate your appetite with a view of the shimmering Pacific.
Natural Bridges State Beach
Located on the northern edge of Santa Cruz, Natural Bridges State Beach is a jewel of nature and marine life. Most renowned for its awe-inspiring natural rock bridge, this beach is a magnet for both nature enthusiasts and photographers. During fall and winter, the eucalyptus groves nearby transform into a sanctuary for migrating monarch butterflies, offering a mesmerizing spectacle.
Photo by Tim Oldenkamp on Unsplash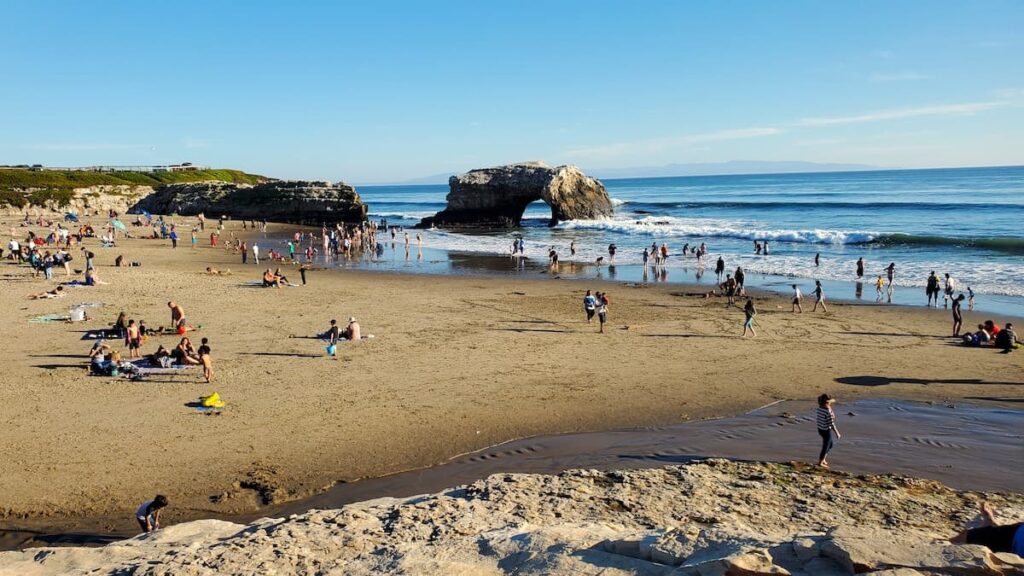 The beach's tide pools are teeming with diverse marine life, providing a hands-on exploration for curious visitors. While the tranquil waters might occasionally invite paddleboarders, the real allure here is the communion with nature, the sunsets painting the sky above the rock bridge, and the rhythmic dance of the waves against the shoreline.
Be sure to check out nearby cafes and restaurants, such as the West End Tap & Kitchen or The Swift Street Courtyard, offering delightful dishes that perfectly complement a day by the sea.
Pleasure Point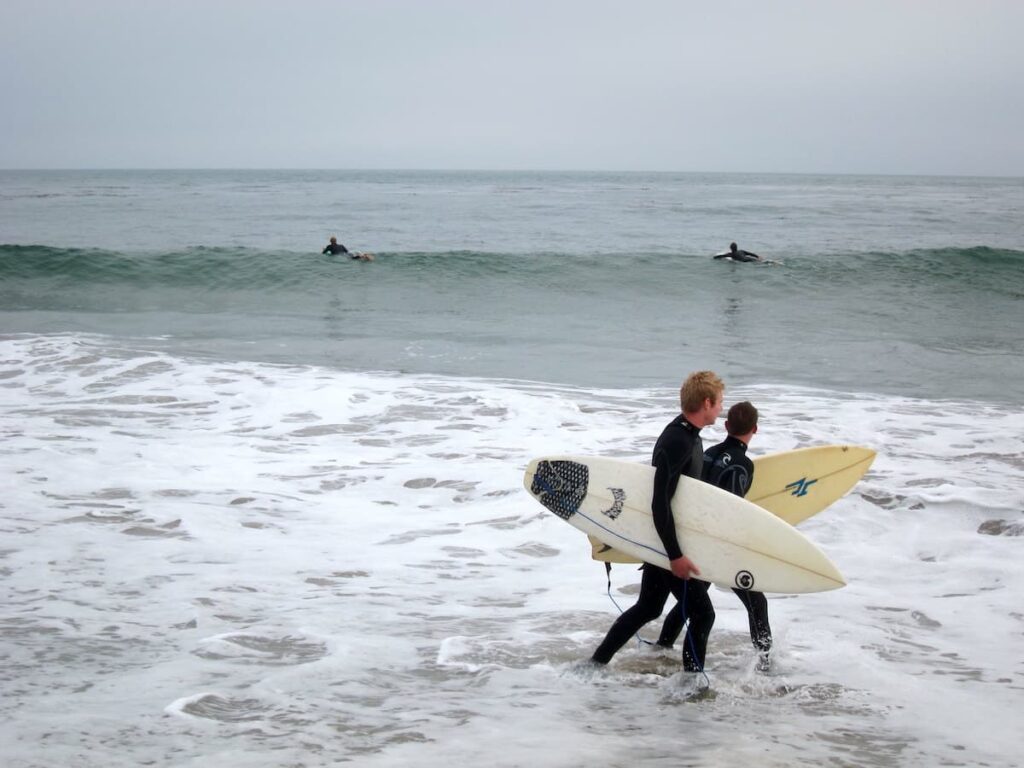 Positioned on the eastern coastline of Santa Cruz, Pleasure Point Beach is a haven for surf enthusiasts and beachgoers alike. With its iconic rugged coastline and consistent waves, it's a beloved spot for surfers of all skill levels. There are many surf rentals nearby for those eager to ride the Pacific swells.
Photo Credit: 'Surfers at Pleasure Point Beach' by Jennifer Morrow via CC BY 4.0 DEED
Apart from surfing, the area also provides opportunities for paddleboarding, skimboarding and boogie boarding, against the backdrop of rugged cliffs and the expansive ocean horizon. After riding the waves or soaking up the sun, visitors can wander to nearby cafes and restaurants, with favorites like the Point Market for hearty breakfasts and Verve Coffee Roasters for a caffeine fix.
Seabright State Beach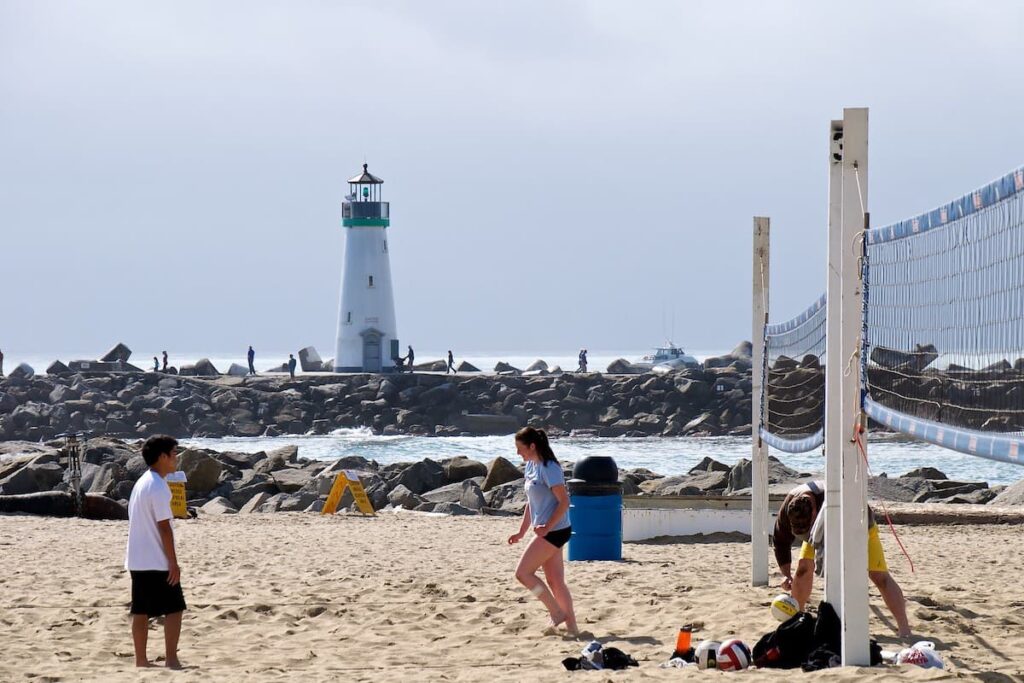 Found between the Santa Cruz Harbor and the San Lorenzo River, Seabright State Beach offers a tranquil seaside retreat within the city's bounds. This serene stretch of sand is perfect for sun-soaked afternoons of picnicking, sunbathing, and engaging in spirited beach games.
As the sun sets, visitors often light bonfires, illuminating the evening with a warm glow.
The nearby Seabright Museum and the striking Walton Lighthouse augment the historical richness of the location. The gentle waves here make it a preferred spot for swimming, stand-up paddleboarding and kayaking. Seabright State Beach blends the allure of history, relaxation, and water activities, making it a must-visit spot in Santa Cruz.
After a day on the beach, grab a bite to eat at nearby cafes and restaurants. Popular choices like the Seabright Social Brewery and Betty Burgers offer delightful menus for those craving a mix of local flavors and classic beach bites.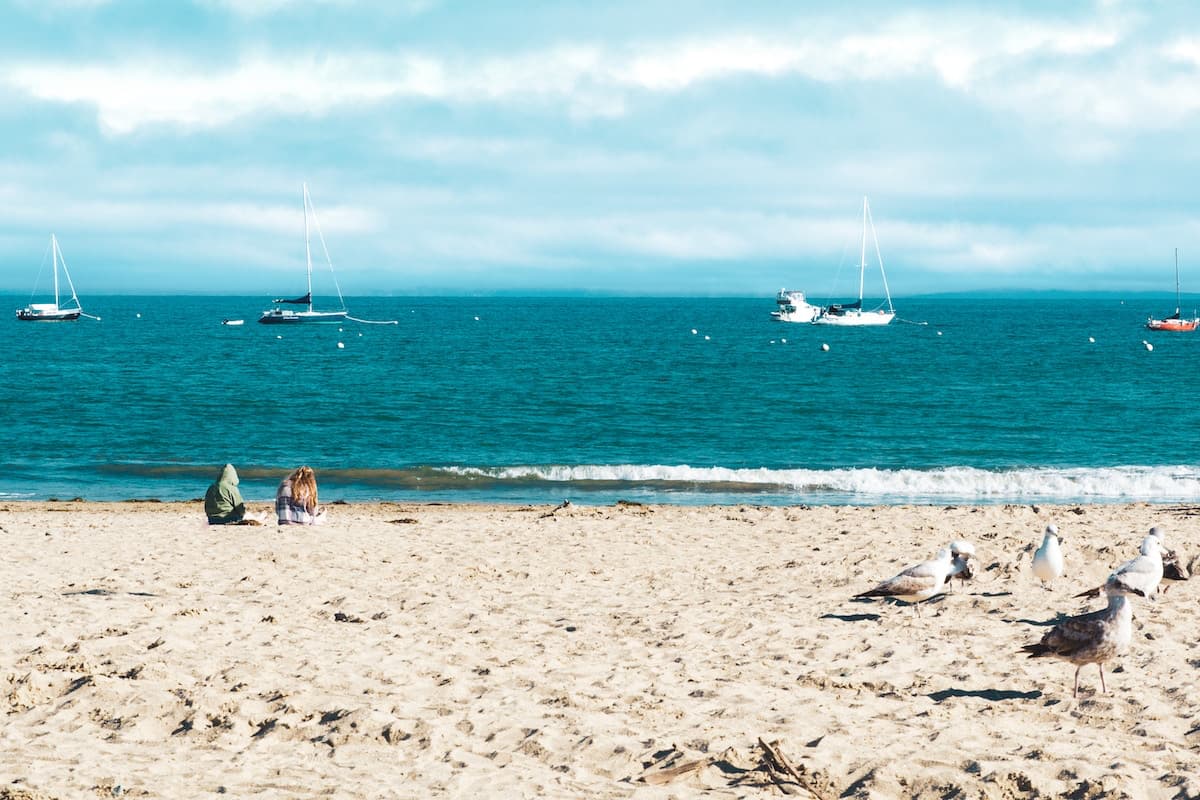 Photo by Jean Carlo Emer on Unsplash
Capitola Beach
Tucked away in the picturesque Capitola Village, Capitola Beach is a delightful blend of coastal beauty and charming village ambiance. With its pastel-hued Venetian-style cottages lining the shore, it offers a uniquely vibrant backdrop for beachgoers. The beach itself is a sanctuary for families, with its gentle waves making it ideal for swimming, beginner surfing and paddleboarding.
After a day in the sun, visitors can meander through the village, where an array of cafes and restaurants beckon. Popular spots like The Sand Bar and Paradise Beach Grille serve delectable seafood, while Mr. Toots Coffeehouse provides a cozy nook for coffee lovers. Whether you're seeking aquatic adventures or simply a tranquil spot to unwind with good food, Capitola Beach promises a memorable experience.
Photo Credit: 'SS Palo Alto Sunset' by Michelle Cipriano via CC BY-NC-SA 4.0 DEED
Seacliff State Beach
Located in Aptos, just a short drive from the heart of Santa Cruz, Seacliff State Beach is renowned for its long, sandy expanse and the enigmatic concrete ship, the SS Palo Alto, anchored at the end of a fishing pier. This beach is a popular spot for picnicking, with numerous tables dotting the shoreline offering panoramic views of the Monterey Bay. The gentle waves cater to swimming, paddleboarding, and fishing off the pier.
Fun Fact: The SS Palo Alto was built by the San Francisco Shipbuilding Company at the U.S. Naval Shipyard in Oakland, California. She was launched on 29 May 1919, too late to see service in the war. Her sister ship was the SS Peralta.
One of the beach's highlights is the opportunity to explore the SS Palo Alto during low tide, a remnant from World War I. When hunger strikes, visitors can head to Marianne's Ice Cream for a sweet treat or dine at Severino's Bar & Grill for a range of delicious meals.
Sunny Cove
Hidden between Pleasure Point and Twin Lakes State Beach, Sunny Cove is a lesser-known gem in Santa Cruz that offers a serene escape from the bustling main beaches. Its sheltered location ensures calm waters, making it a favorite spot for families to swim and introduce little ones to the joys of the ocean.
The cove's rocky perimeters create inviting nooks for tide pool exploration, revealing a microcosm of marine life. Water sports enthusiasts will enjoy stand-up paddleboarding and kayaking in the relatively tranquil waters of the cove. Book worms will love the secluded serenity this cove provides.
After a refreshing day at the beach, visitors can take a short stroll to Java Junction for a revitalizing coffee or The Point Chophouse & Lounge for a hearty meal. For those craving an authentic local experience, Aloha Island Grille offers a taste of Hawaiian flavors just around the corner. Sunny Cove is not just a beach; it's a slice of tranquility amidst Santa Cruz's dynamic coastline.
Life is Better By the Beach
Embrace the laid back Californian lifestyle at Santa Cruz's beautiful beaches. Each beach, with its distinctive charm, invites visitors to craft memories that last a lifetime — whether that's catching a pristine wave, basking under the sun, or sharing a seaside meal. So, whether you're a first-time visitor or a returning traveler, let the shores of Santa Cruz beckon you to relax, play, and embrace the magic of the coast.