Welcome, shutterbugs and beach-lovers, it's time to explore the Instagrammable charm of the Pacific's gem, Capitola Beach. As elusive as a perfect selfie in golden hour, we've tracked down the 'crème de la crème' of photogenic spots that will send your followers into a double-tapping frenzy. From sun-kissed sand stretching under pastel-hued Capitola Venetian villas to the lush foliage of the local parks, this coastal retreat is an Instagrammer's dream come true.
To truly soak in the beauty of Capitola, consider a stay at one of the many Capitola Vacation Rentals dotting the coastline. Offering a home-away-from-home vibe, these rentals not only provide comfort and convenience, but also serve as picturesque bases from which to launch your Instagram adventure. Now, ready those hashtags, as we unveil the hidden gems of Capitola Beach, where every corner promises a perfect picture waiting to be captured.
Most Scenic Places to Snap Pics Around Capitola Beach
Capitola Beach, with its charming vibrancy and idyllic setting, offers countless photo opportunities. Here are some of the most picturesque spots that you should not miss;
Photo Credit: Photo by Beau Barnett on Unsplash
Capitola Village
This is the heart of Capitola and it's brimming with color and life. The whimsical and iconic pastel-colored Venetian villas offer a unique, photogenic backdrop, while the cute shops and cafes add a charming touch to your shots.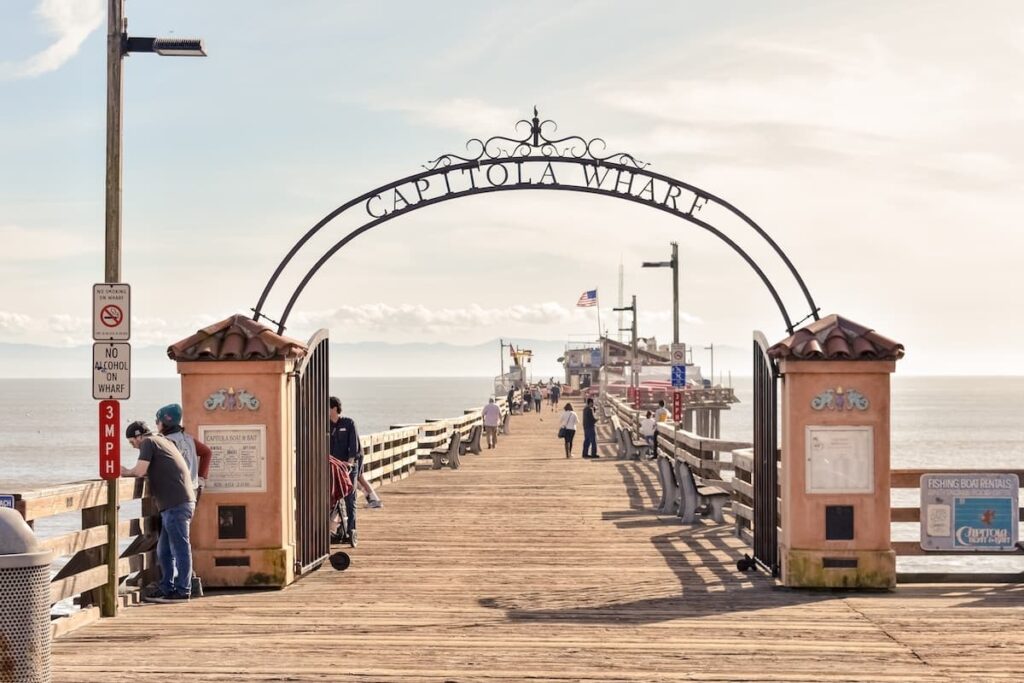 Photo Credit: Photo by Sean Barker on Unsplash
Capitola Wharf
A walk along the Capitola Wharf will offer you spectacular views of Monterey Bay. It's a perfect spot for capturing the early morning sunrise or the golden hues of the sunset, with the shimmering waters adding to the allure.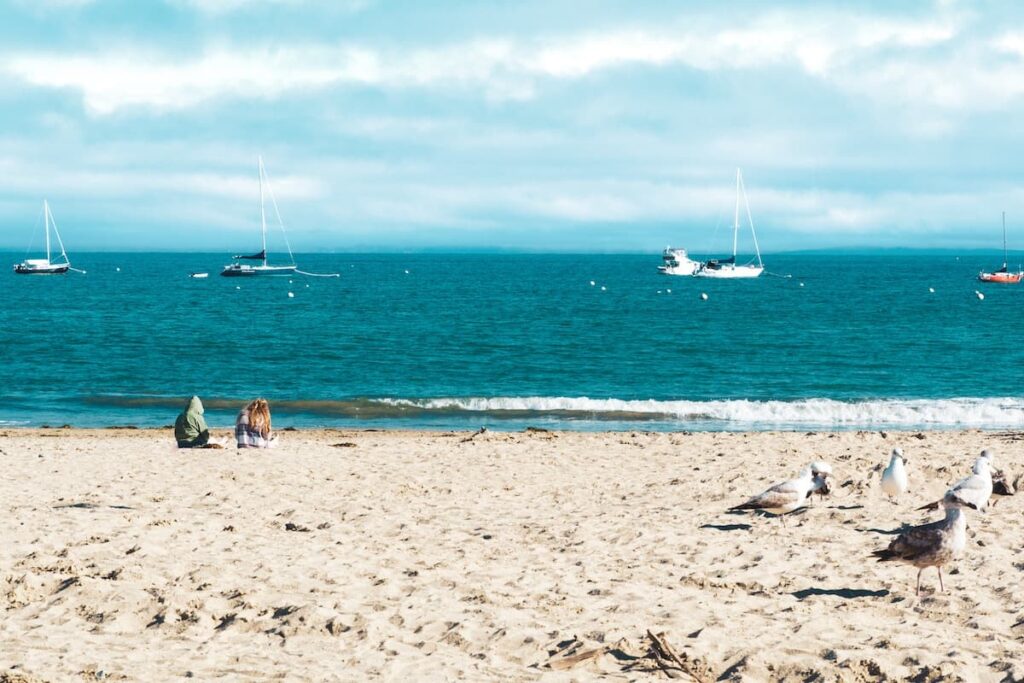 Photo Credit: Photo by Jean Carlo Emer on Unsplash
Capitola Beach
Capitola Beach is a photographer's paradise. Take stunning shots of the waves breaking against the shoreline, the colorful beach umbrellas dotting the sands, or people enjoying a sunny day.
Soquel Creek
Running alongside Capitola Village, Soquel Creek offers a serene setting for nature-inspired photos. You might even catch a stand-up paddleboarder gliding along!
Depot Hill
For a breathtaking panoramic view of the entire Capitola Village and coastline, head to Depot Hill at sunset. The view from the top is simply unmissable.
New Brighton State Beach
Just a little south of Capitola, New Brighton State Beach has majestic cliffs and scenic viewpoints that offer splendid photo opportunities, especially if you love landscape photography.
The Esplanade Park
This Esplanada Park, with its colorful flowers and spectacular view of the beach and wharf, is an ideal spot for both portraits and scenic shots. The annual Capitola Art and Wine Festival held here also offers a chance for some vibrant event photography.
Shadowbrook Restaurant
The Shadowbrook Restaurant is known for its whimsical gardens and creekside location, it offers beautiful spots for capturing the ambiance of one of Capitola's iconic establishments. If you are an avid foodie on instagram, this spot is the perfect place for you.
Stockton Avenue Bridge
For an unparalleled view of Soquel Creek as it meets the Pacific Ocean, head to the Stockton Avenue Bridge. This perspective provides an excellent opportunity for long exposure shots of the water and unique views of the beach.
Top Tips For Getting the Perfect Instagram Pics Around Capitola
Use Natural Light: The magic hours – around sunrise and sunset – provide the best lighting. The soft golden light adds a magical touch to your photos, making Capitola's scenic spots glow with a warm, inviting charm. This rule applies equally to the beaches, wharf, and charming Capitola Village.
Play with Perspective: Changing your perspective can turn an average shot into an extraordinary one. Try shooting from low angles to make your subject look larger, or use a bird's-eye view for a more dynamic shot. For instance, capture the colorful Capitola Village cottages from different angles, or try a top-down shot of the beach umbrellas on Capitola Beach.
Focus on Details: Pay attention to the details that can add depth and interest to your pictures. The texture of the sand, the ripples in the water, or the vibrant colors of a storefront in Capitola Village can add a unique touch to your images.
Rule of Thirds: Apply the rule of thirds to your photos for balanced and engaging shots. Divide your frame into nine equal rectangles and place the important elements along those lines or at their intersections. This can be especially effective for beach, wharf, and sunset shots.
Use Reflections: Reflections can create a sense of symmetry and add a captivating twist to your images. Use the waters of Soquel Creek or the wet beach sand to capture a mirror image of your subject.
Capture Candid Moments: Posed shots can be great, but candid photos often tell more compelling stories. Capture spontaneous moments of beach-goers, surfers, shoppers, or even seagulls in action. This can be especially effective during local festivals or bustling summer days.
Include People for Scale: If you're photographing large landscapes like the New Brighton State Beach cliffs or a wide-angle shot from Depot Hill, include a person in the frame to give a sense of scale.
Use Local Flora: Incorporate local flowers or palm trees into your shot to add color and frame your subject, be it the beach, the wharf, or the Capitola cottages.
Experiment with Editing: Don't shy away from using Instagram filters or editing apps to enhance your photos. Adjust the brightness, contrast, saturation, or apply filters to make your Capitola shots truly stand out.
Don't Rush: Lastly, remember that great photography takes time. Be patient and take multiple shots from different angles to ensure you've captured the best image.
Get Ready to Capture Capitola
And so, dear reader, go forth and explore your inner influencer on a picturesque journey through Capitola's most Instagrammable spots. Enjoy the sun-dappled beaches, mosey around the technicolor Capitola Village, and snap sunsets so dreamy they'd give Monet a run for his money.
As you head off on your photo-taking adventure, armed with a sunhat, camera, and a newfound knowledge of Capitola's most instagrammable spots, remember – in a place as charming as Capitola, there's no such thing as too many photos. So, whether you're aiming for Insta-stardom or merely want to chronicle your Capitola adventures, may your hashtags be plentiful, your filters complementary, and your likes abundant.
Happy gramming, folks! Here's to capturing Capitola's beauty one snapshot at a time and creating envy-inducing feed. Till next time, #CaptureCapitola!