Welcome to Santa Cruz, California – a place where the sun shines, waves crash locals smile at you, and dogs are in paradise. Situated on the Central Coast of California, Santa Cruz is a popular destination for families of all kinds, even those with 4 legged family members.
One of the best things about Santa Cruz is the weather. You can enjoy sunny days and mild temperatures year round – making it a dog walking paradise. Even in the middle of winter, you're likely to find yourself and dozens of others enjoying some blue skies, and frisbee catch on the beach.
But where to stay in Santa Cruz?
Many pet owners stress out when planning their vacation, trying to figure out what to do with their furry friends. Worrying about finding a pet-friendly vacation rental shouldn't put a damper on your next getaway because luckily, Santa Cruz, California is a great place to travel with your pet. If you're already planning a trip to Santa Cruz with your pet, check out some of our top picks for pet-friendly vacation rentals in Santa Cruz.
Whether you're looking to relax on the beach, explore the redwoods, or enjoy the local food and drink scene, Santa Cruz has something for everyone. There are plenty of things to do with your dog in Santa Cruz. In this post, we have compiled some fun pet-friendly vacation ideas that you and your furry friend can enjoy together while visiting Santa Cruz, California.
1. Visit Mitchell's Cove Beach
Mitchell's cove beach is one of the greatest places to take your dog in Santa Cruz because it allows dogs to be off-leash before 10 a.m. and after 4 p.m. And what dog doesn't enjoy running on the beach and splashing in the cool Pacific Ocean?
2. Go for a Hike
Santa Cruz is home to some of the most beautiful hiking trails in California. From easy strolls along the beach to more challenging hikes through the redwoods, there's something here for every level of hiker. And of course, your dog is welcome to join you on any of these adventures. Just be sure to pack plenty of water and some snacks for both of you.
One of them, the Pogonip Open Space Reserve, is located just 10 minutes from downtown. Pogonip is a great way to get away from it all and relax in nature.
3. Visit West Cliff Drive with your dog
West Cliff Drive is a scenic route that runs along the coast of Santa Cruz. It's the perfect place to take a leisurely stroll with your furry friend while enjoying stunning views of the ocean. And, if you time your visit right, you might even see some dolphins playing in the waves
4. Visit a Dog-Friendly Brewery
Santa Cruz is home to several dog-friendly breweries, including Humble Sea Brewing Company, Sante Adairius Rustic Ales, and Discretion Brewing. These breweries offer a relaxed atmosphere where you can enjoy a delicious beer or two with your dog by your side.
Check Santa Cruz Mountain Brewing, which has a dog-friendly taproom and beer garden. Founded in 2005, their organic and locally sourced beer is handcrafted, and on their menu, they offer some delicious sandwiches for you and dog bones for your canine companion.
5. Kayaking on Monterey Bay with your fur baby
Monterey Bay is one of the most beautiful places in California, and you can experience it firsthand by taking a kayak out on the water. There are several companies in Santa Cruz that offer kayak rentals, and many of them are dog-friendly. So, you and your pup can paddle your way around the bay and take in the stunning scenery.
You'll see a lot of wild animals as you paddle around Monterey Bay. Sea otters, seals, sea lions, pelicans, dolphins, whales, and seabirds are just a few examples of the creatures that may be seen.
6. Explore Redwoods with your dog
No trip to Santa Cruz is complete without spending some time exploring the Redwoods. Nearby Herry Cowell Redwoods State Park, and a little further north, Big Basin Redwoods State Park, are home to some of the tallest trees on Earth, There dozens of dog-friendly trails that wind through these majestic giants. So, you and your furry friend can explore the redwoods together and take in all the natural beauty.
7. Visit Downtown Santa Cruz with your pup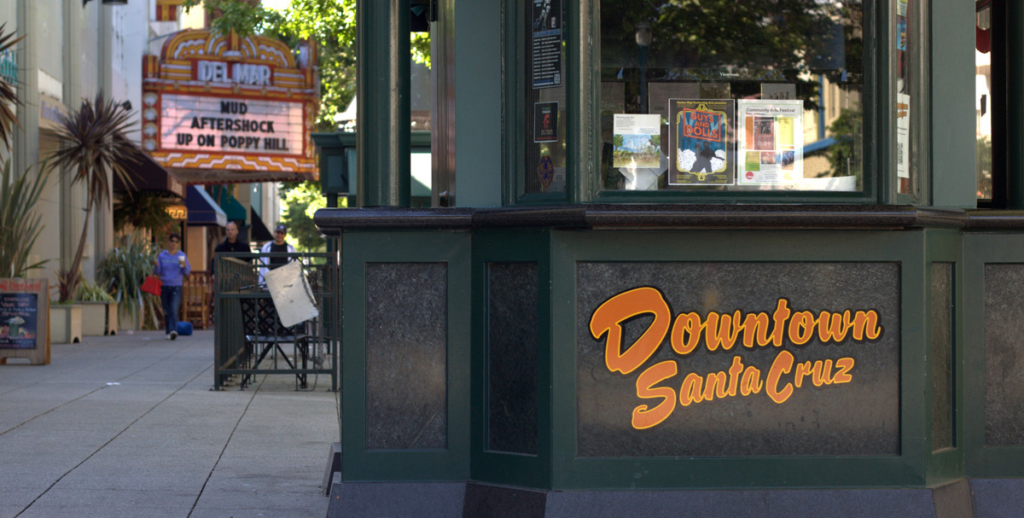 Downtown Santa Cruz is a great place to walk around with your dog. There are plenty of shops, restaurants, and cafes to explore, and most of them are dog-friendly. So, you can enjoy a bite to eat or do some shopping with your furry friend by your side.
So, there you have it – seven reasons why Santa Cruz is a great place to travel with your pup! and amazing pet-friendly accommodations to complete your pet-friendly vacation. So, what are you waiting for? Book your trip today and start exploring all that Santa Cruz has to offer.
3 common questions about travelling with your pet to Santa Cruz
Is Santa Cruz Pet friendly?
Yes, Santa Cruz is a pet-friendly city. There are many activities and places you can visit with your fur animal. You can check the list of Santa Cruz County On-Leash and Off-Leash Dog Recreational Areas.
Are dogs allowed in downtown Santa Cruz?
Yes,  dogs are allowed in downtown Santa Cruz. There are plenty of shops, restaurants, and cafes that welcome four-legged friends.
What is the best time of year to visit Santa Cruz with my pet?
The best time to visit Santa Cruz with your pet would be during the shoulder seasons – Spring and Fall. The weather is milder and there are fewer people, so your pet will have more space to roam around.